My Favorite Chicken Dinners
One of my favorite things about being married is getting to cook for someone besides myself :) I know that a lot of people don't like the stereotypical gender role of the wife making dinner every night, but I secretly kind of love it! I love cooking, so I have no problem making dinners, and I have had so much fun making all kinds of new things over the past year. And I am grateful for a husband who isn't picky (or is just really sweet and doesn't complain)!
One tricky thing about cooking is at home is that I run out of ideas. I often get done with work or school at 5ish so I usually don't have a lot of time, and that definitely limits what I can make. Thanks to Pinterest and the Food Network website, I have discovered and tried all kinds of recipes and have put together a weeks worth of simple, yummy chicken dinners! I have made all of these (some more than once) and they are perfect if there's just two of you (you can keep all of them as leftovers) or bigger families!
Some of the pictures I took just don't do the meals justice, but I promise they look and taste so yummy in real life.
1. Crock Pot Chicken Taco
These bad boys are SO yummy. I love crock pot stuff because I can put stuff together in the morning before school, and them come home to our place smelling so yummy!
These are fun too because there are so many things you can add. We had our own little taco bar and had bowls set up with cheese, tomatoes, lettuce, sour cream, salsa and guac.
2. Chicken Parmesan Pasta Bake
I am pretty obsessed with any kind of pasta/Italian food, so I have made this one a lot now. It puts a little twist on having just pasta, and there is chicken in there so it adds some protein to everything! It is honestly so good, and I usually like to have it with steamed broccoli.
3. Chicken Pot Pie
Once I googled "chicken pot pie recipe," and this is the first one that came up. I have never used another pot pie recipe and don't think I ever will because this one is awesome. It is especially good for freezing cold nights around here. My favorite part is how simple it is!! It is honestly so easy to make. The only thing I leave out is the celery seed. I usually don't have time to make a pie crust from scratch, so I just get the Pillsbury deep dish ones (one for the bottom, one for the top) and it tastes fine. I prefer using fresh veggies, but frozen is totally good too. This one is super nice too because you have your meat and veggies in the same dish so you don't need to add any sides!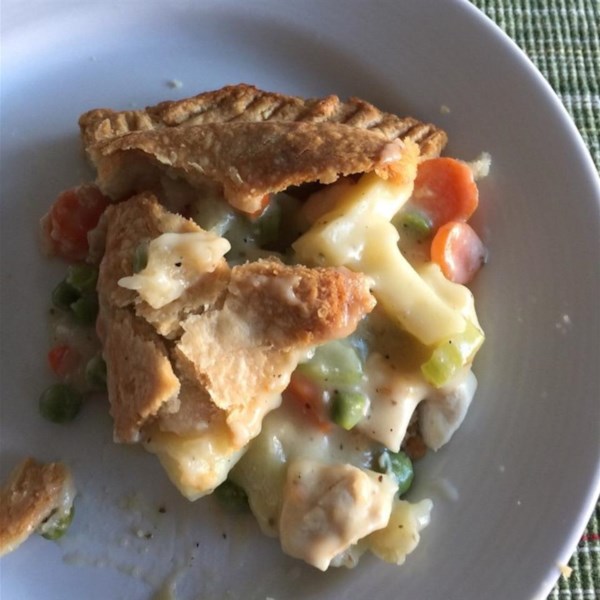 4. Crock Pot Teryaki Chicken
Kody is obsessed with chicken and rice. Seriously, before we got married that is all he ate! So, needless to say he loves this dish. It is so simple. Next time I want to add something more, like broccoli or some kind of other veggies.
These enchiladas are BY FAR the best ones I've ever made. They are so good, and they are so easy. I am weird and leave out the corn just because I don't like mixing corn into things..am I the only one who doesn't like that? If you or anyone in your family likes enchiladas, you NEED to make these.
picture from the original website..forgot to take a picture of this one, sorry!
A few other things...
-As far as chicken goes, I obviously use it a lot. I buy a big bag of frozen chicken tenderloins from Costco and use it all the time for these chicken recipes (after thawing of course). It lasts so long and is wonderful for so many recipes.
-I buy everything either from Costco or Wal-Mart (unless it is something weird that they don't have there). I know wal mart isn't the classiest place and a lot of people don't like to shop there, but I have done my research (believe me) and 99% of the time, they have the
very
best prices on groceries (and they have the savings catcher app so you can get money back if the stuff you bought wasn't cheaper than anywhere else). Someday I'll only shop at Trader Joes and Aj's, but for now it's wal mart.
-Don't cook it too long! For all of the oven recipes, I took the dishes out way earlier than it said (especially the chicken pot pie). Maybe our oven is just weird, but keep an eye on the dishes the entire time they're in the oven.
I am way too partial to chicken and hardly ever eat red meat, but I am going to start trying to find some good beef recipes too. Let me know if you've tried any of these and PLEASE tell me some of your favorite recipes! I am always looking for more :)
xo